"This article has been modified to Heroes WoW server"
The Molten Core is the first raid dungeon for 10 people with starting gear located beyond Blackrock Depths in the deepest part of Blackrock Mountain, home to Ragnaros the Firelord and his elemental minions.
Is the starting raid dungeon available for newbie players to get the T12 set and Off Parts. 
All Molten Core bosses drop pieces of the Tier 12 Raid Setwhile and satchel of helpful goods to get some pieces of set.
Is Recomended Buy full set from Fndral Sungazer for better Stats, better dps, better tanking or better Healing
It is also advisable to invite one or more donors.
Encounters
Edit
Bosses
Monsters

Magmadar

Gehennas

Garr

Baron Geddon

Shazzrah

Sulfuron Harbringer

Golemagg the Incinerator

Majordomo Executus

Ragnaos

Ancient Core

Core Hound

Firelord

Firesworm

Flame Imp

Flamewaker

Flamewaker Protector

Lava Anihilator

Firewalker

Molten Destroyer

Molten Giant
Molten Core Raid Map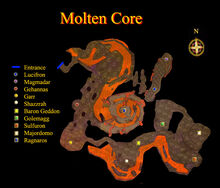 Ad blocker interference detected!
Wikia is a free-to-use site that makes money from advertising. We have a modified experience for viewers using ad blockers

Wikia is not accessible if you've made further modifications. Remove the custom ad blocker rule(s) and the page will load as expected.