"This article has been modified to Heroes WoW server"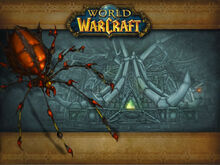 Naxxramas is a dungeon floating above Dragonblight in Northrend. It is a Scourge necropolis, the seat of the Arch Lich Kel'Thuzad.
To access this dungeon will have to get the Naxxramas key which can get in the Black Temple raid.
For this dungeon it is recommended that players have the T13 full if possible.
It is also advisable to invite one or more donors.
Arachnid Quarter
Construct Quarter
Plague Quarter
Anub'Rekhan

Grand Widow Faerlina

Maexxna

Patchwerk

Grobbulus Gluth Thaddius

Noth the Plaguebringer


Heigan the Unclean
Loatheb

Military Quarter
The Four Horsemen
Frostwyrm Lair
Instructor Razuvious


Gothik the Harvester
The Four Horsemen

Lady Blaumeux


Thane Korth'azz
Baron Rivendare
Sir Zeliek

Sapphiron


Kel'Thuzad
Images